You can find on the web a whole range of tutorials explaining how to build a floor in a campervan. The authors often admit that conversion of a van into a campervan is a long-term process. Moreover the building of the floor itself is demanding and burdensome. To build a floor, you need not only materials (XPS board, carpet). You'll also need specialized tools and adhesives, as well as a lot of work and energy. Building a motorhome on your own is certainly an interesting challenge. But can you really spend your time and money on it? It is worth considering an easier solution. A specialized manufacturer can make the floor for your individual needs and dimensions of your vehicle. It will be easier, cheaper, faster and safer. You will be able to focus on preparing the details of the motorhome equipment for you or your client.
Campervan floor – "do it yourself" is not necessarily the best option
Let's suppose your company carries out a certain number of motorhome conversions within a month. Now count how many boards, plywood, carpet rolls, chemicals, costs, work and energy you have to put into it. And the effect of such an action doesn't have to be satisfactory at all. Especially that on the market you can find better solution. Ready-made lightweight composite floors that could be cut to the shape of a specific vehicle. Entrusting a specialized company with the production of the floor is a good idea. That will save you unnecessary additional work and will protect you from additional costs. At the same time, you can be sure of the end result. The product itself will be delivered to you in one piece (you don't need to adjust individual elements). That also is ready for installation in the vehicle and made directly for your needs.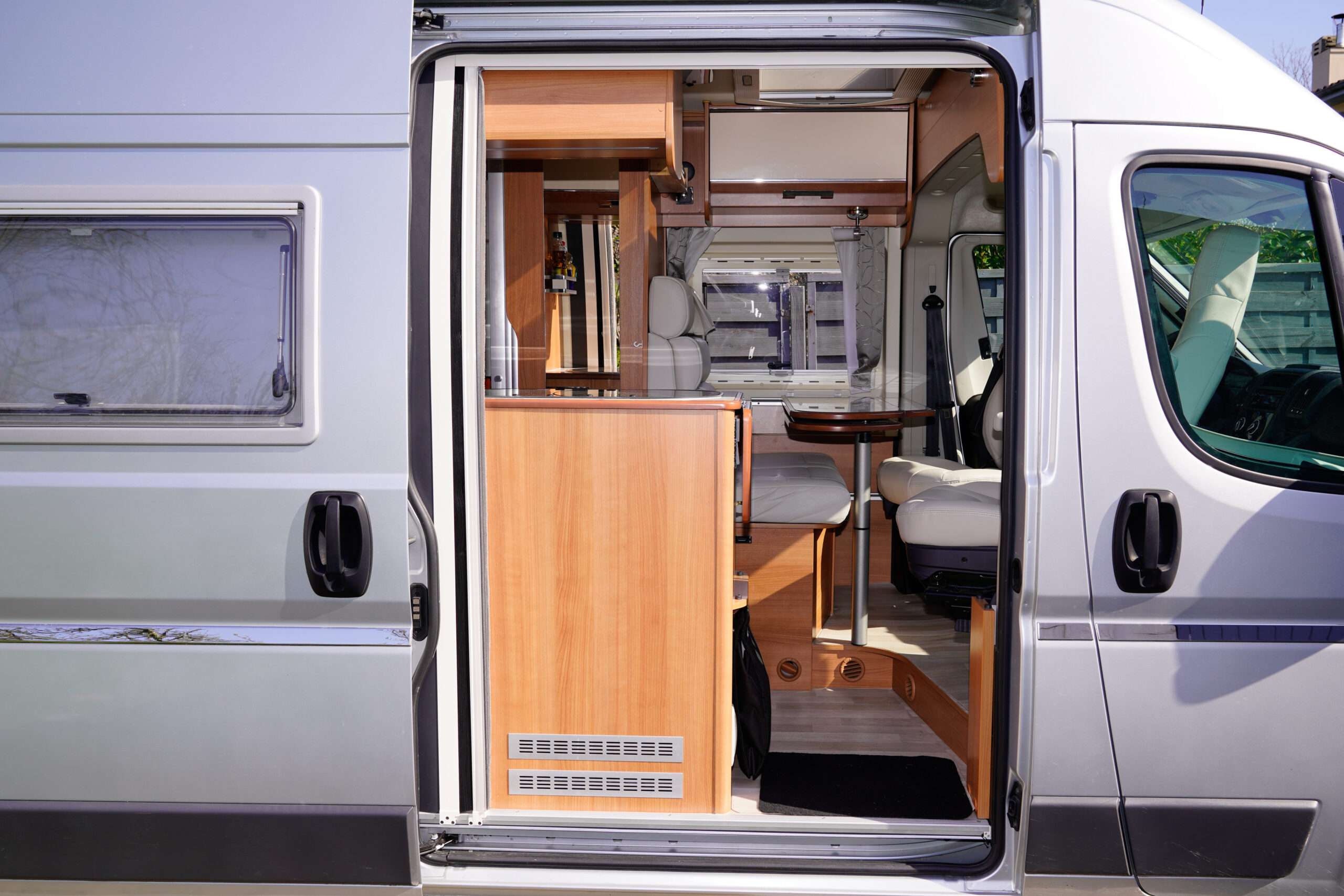 Not only the lightest campervan floor on the market
There are several factors that make Mobiframe flooring systems unique. First of all, these are the lightest floors available on the market, which owe their exceptional lightness to the use of XPS (foam core) polystyrene boards covered with a laminate. Mobiframe flooring systems are not only exceptional lightness of the product, but also:
are characterized by a high level of thermal insulation,
are durable and resistant to abrasion,
have been tested in accordance with the regulations of the UN Economic Commission for Europe (ECE) and the American FMVSS vehicle safety standards,
show properties related to the suppression of sounds and vibrations.
The ordered floor will be delivered to you in one piece, ready for installation in the vehicle. When it comes to adapting to your individual needs, you have nearly unlimited configuration options. The floor will be cut exactly to the dimensions of your vehicle. All you need to do is giving the dimensions of your motorhome, and our designers will project the floor exactly to your expectations.
The product is delivered with a glued PVC carpet (any color) and with the layout and length of rails for seats and bed benches installation.
Aluminum rails for seats assembly – an indispensable element of motorhome floor
The flooring system (core + carpet + rails) is the basis for the further campervan conversion. The next stages of this pleasant, but also demanding and important process are built-in furniture and the assembly of seats and benches. Well, seats and benches must be properly attached to the floor. The best and most convenient solution for installing the seats are aluminum rails. Of course, there are rails in a variety of assembly systems on the market. However, due to Mobiframe solutions, you do not have to think about the acquisition of compatible elements. We will prepare a whole set for you, consisting of a composite floor, rails and – if necessary – motorhome seats and bed benches.
Mobiframe aluminum rails are not only:
very durable,
safe (tested in accordance with regulations),
easy to install (and if necessary, rails will be already installed from the ordered floor),
cut and selected to the length for a specific order,
but, above all, it is compatible with the best bed-bench sliding system on the market (check here what's going on). Mobiframe seats and bed benches themselves also allow for quick assembly and disassembly due to the use of quick couplers.
The floor in the motorhome is the basis for further camper conversion
What's important – the flooring systems offered by Mobiframe, thanks to use of the lightest and durable materials, significantly contribute to reducing the weight of the whole vehicle. This is of particular importance for companies dealing in campervan conversions. Mobiframe solutions provide everything that modern motorhome users expect from the floor, so:
the lightest possible technology,
durability and resistance to abrasion,
acoustic and thermal insulation,
aesthetic appearance.
Remember that the floor is one of the most important elements of a campervan. It is an indispensable element, occupying an area of ​​several square meters. The entire structure of the vehicle rests on it. So it is not worth unnecessarily combining with the construction of the floor in the motorhome – trust the professionals who will design the floor for the campervan according to your individual requirements, manufacture it and deliver it to you. Contact us and find out more: sales@mobiframe.eu